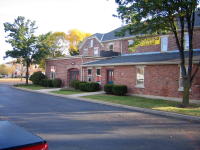 Helmig Lienesch LLC
Consulting Engineers
410 South Jefferson Street
Dayton, Ohio 45402
voice: 937.228.4007
fax: 937.228.1936
email: info@helmigl.com

&nbsp
Helmig Lienesch LLC is a 63 year old Consulting Engineering Firm with extensive amount of mechanical and electrical design experience. Our company is small, about 10 people, to ensure optimum customer service and lasting client relationships. We have completed over 6,400 projects that include educational, commercial, industrial, and institutional facilities nationwide.
We specialize in permit and bid documents for boilers, chillers, air handling equipment, plumbing, fire protection, power distribution equipment, emergency generators and controls.
We currently offer consulting engineering services - design, layout and specifications - for the following areas of expertise:
Heating, Ventilating and Air Conditioning
Power House Systems
Industrial Ventilation
Sheet Metal / Piping Fabrication & Coordination Drawings
Utility Piping
Steam Distribution
Sanitary and Storm Sewer Systems
Fire Protection / Suppression and Sprinkler Systems
Temperature Control / Building Automation Systems
Fire Alarm Systems
Lighting Design
Lighting Studies
Lightning Protection and Grounding Systems
Primary and Secondary Electrical Power Distribution
Standby, Auxiliary, Emergency and UPS Power Systems
Power Monitoring and Metering Systems
Power coordination and Low Flow Studies
Technical Specifications
Building Code Investigations
Energy Conservation Studies and Design
Campus Master Plans
CAD Services
Economic and Feasibility Studies
Field Observation / Assistance in start-ups and Monitoring of any of the above listed items.